Here Are Our Litters from 2012!


Harriet & Red
Dec. 1st, 2012
3 girls (red sable & white; champagne/gold; gold) & 2 boys (sable; champagne/gold)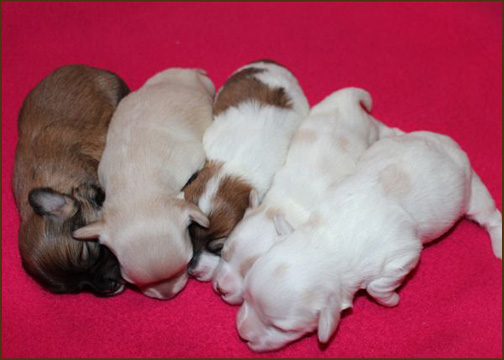 On Dec 1st, 2012 Harriet delivered 5 little sugar plums, just in time to add to the magic of the holiday season. Three girls, and two boys will be keeping Harriet busy over the next few weeks and the grandchildren entertained over Christmas. Red is bursting with pride and looks forward to teaching them a few things when they are older!


TanTan & Cappy
Sept. 9th, 2012
3 boys (red sable and white)
1 girl (gold and white)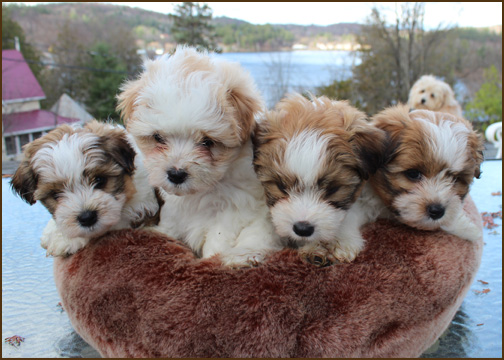 Puppies at 7 weeks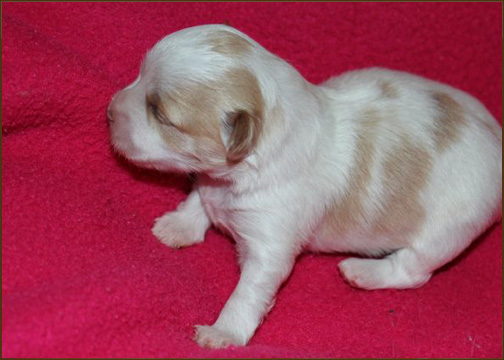 Ginger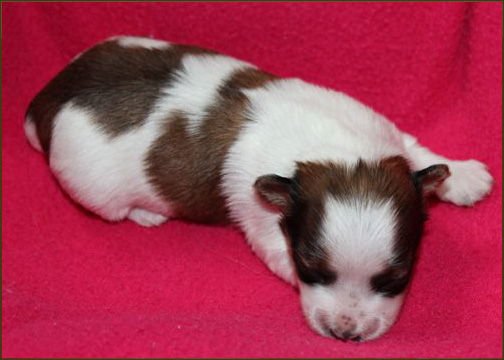 Russ




Twizzler




Will


Autumn Rhapsody

What a lovely welcome to Fall and all its reds, russets and golds! TanTan is a very pretty, smaller Havanese who did a lot of winning as a show dog. Her last show was at the Regional Specialty in 2011 where she took Best of Opposite. What a fitting way to end her career and move into motherhood. Cappy, the sire is a wonderful boy from Germany, who on top of being very good looking is just such a good natured dog. These two have produced a particularly beautiful litter! Please contact me if you might be interested in adopting one of these beauties.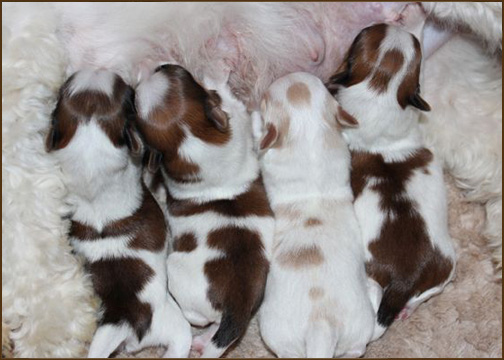 "Sheridan"




"Russ"




"Will"




"Ginger"


Twink & Cappy
May 20th, 2012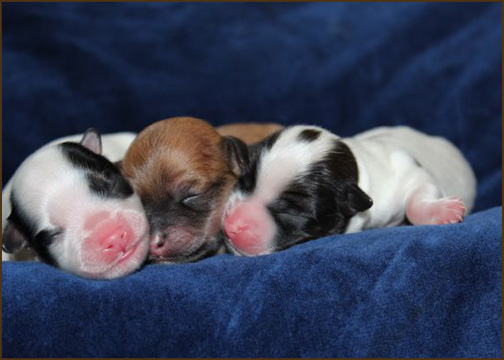 Three little firecrackers (all boys) arrived on May 20th, 2012.
"Sizzler", "Rocket" and "Sparkler".

This marks the beginning of Cappy's career as Stud dog and the end of Twink's as Brood Bitch. Colours: 1 black and white, 1 dark sable and white (the one with more clour and the dot on his head) 1 gold sable





Teagan & Miracle

May 11th, 2012
4 girls & 3 boys

Rockhurst's Group Of Seven

My beautiful little import from Germany, Teagan, has produced a stunning litter with Miracle. The boys (3) are all cream or cream with red/gold markings. The girls are various shades of red, from red gold (2) to red sable (2). Watch for one or more next year in the 2013 show circuit!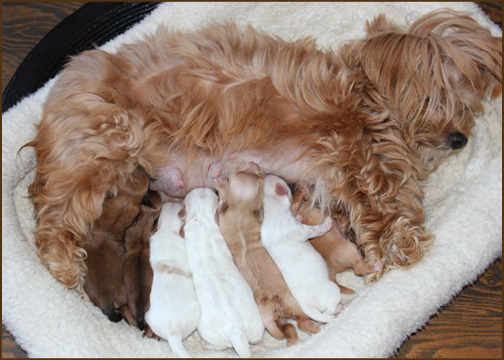 TanTan X Red
Born Jan 26th, 2012




Rockhurst's Little Big Chiefs!

This is TanTan and Red's first litter and what little beauties they are! You can be sure their coats will be extra silky soft, their characters full of sweetness and mischief and their stature grand in small packages.

Puppies: 2 boys - (1 red with white, 1 champagne and gold)
2 girls - (1 red sable and white, 1 champagne and tan)

Dam: Am/Can Ch Rockhurst's Big Chief
Sire: Am/ Can Ch. Rockhurst's Red Star At Night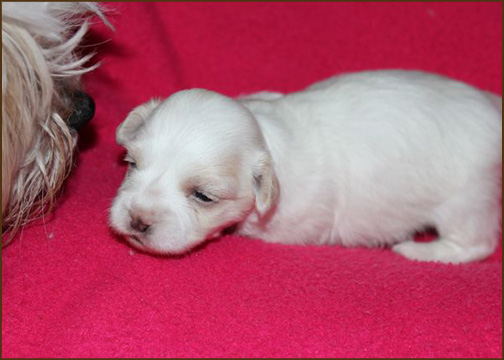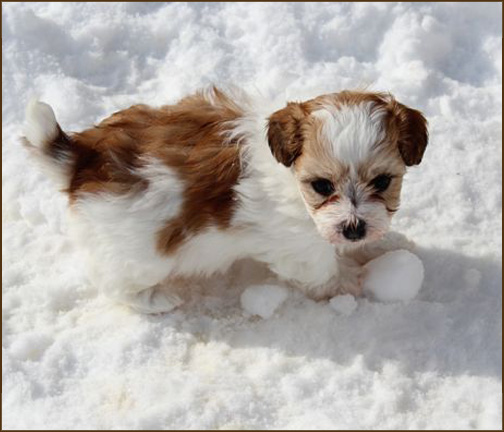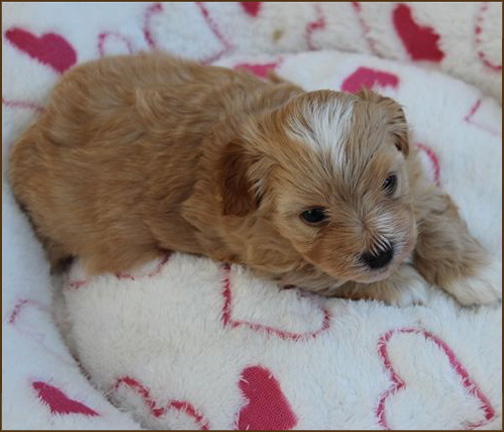 Twink X Talis
November 25th, 2011
Twinkle Little Stars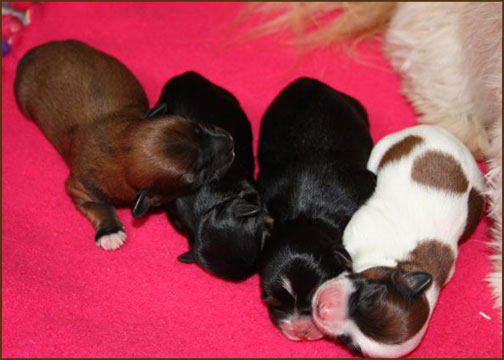 Twink and Talis have produced another super litter and how very clever they were also to ensure the gender was evenly distributed. The girls are tricolour (black tan and white) while the boys are red sable and redsable and white.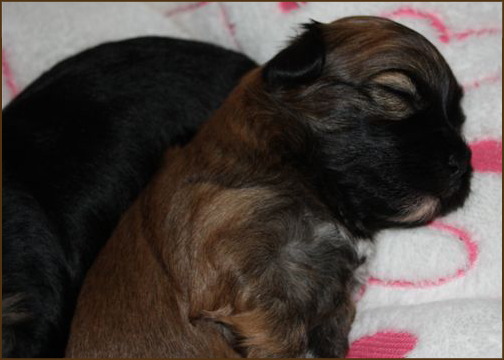 Gina X Talis - May 25th, 2011

1 beautiful girl
(black, tan and white)

2 gorgeous boys
( black and white; dark red sable and white)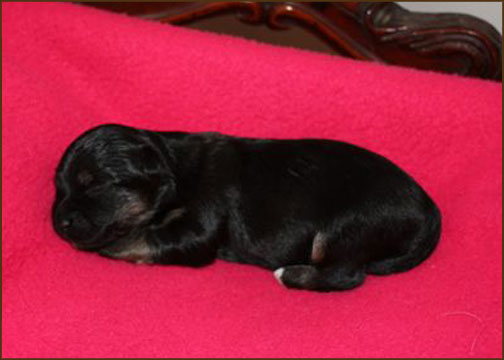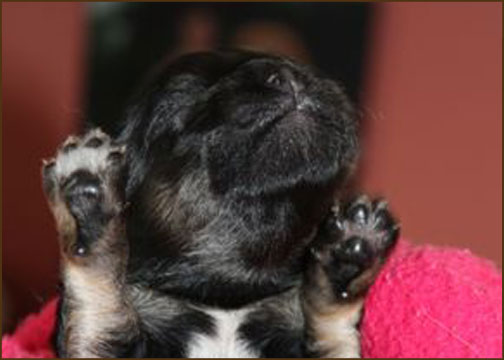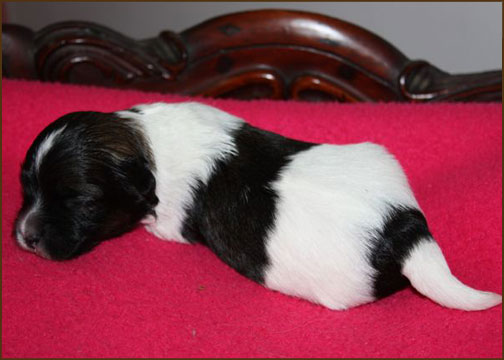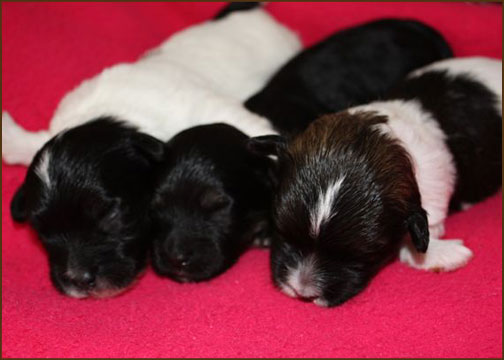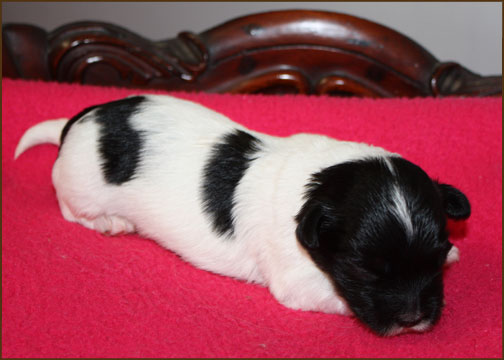 Pictured at 23 Days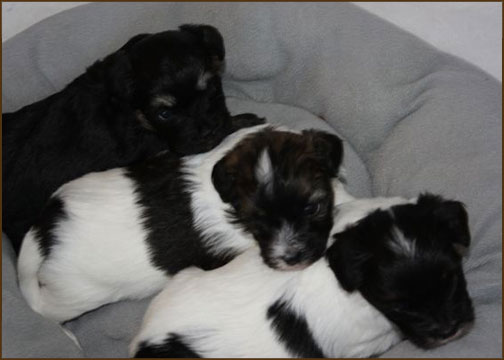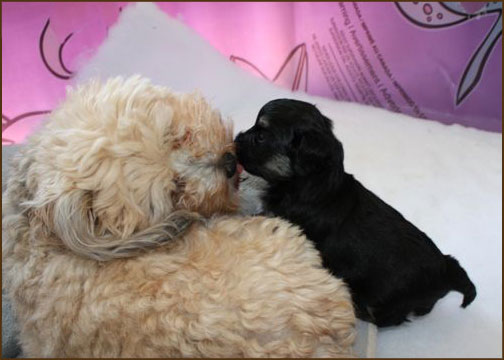 "A Pinch of Magic"
June 5th, 2011

Sire: Ch Ashstones Lil Prince Rockhurst - "Harry"
Dam: RBIS Am/Can Ch. Ashstone's Magic At Rockhurst, MBPIS - "Magic"

Magic and Harry's special puppies have arrived! Both parents have exceptional temperaments as well as excellent conformation. A "'pinch of Magic" and a dashing Prince Harry makes this litter what fairy tales are made of.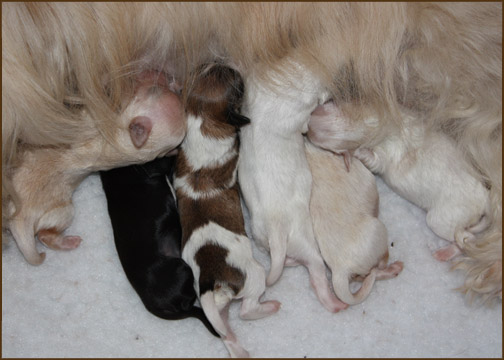 Shimmer X Talis
April 22nd, 2011

This is Shimmer's last litter and Talis's first.

Two beautiful little girls arrived early on Good Friday.
One of these is destined to be a show girl!