Testimonials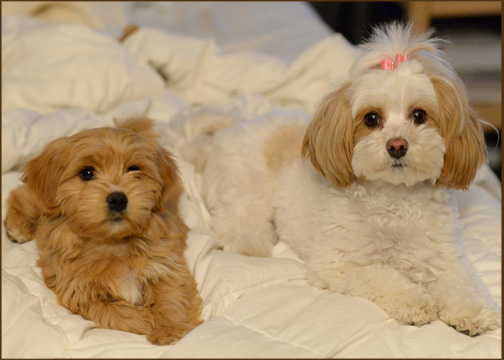 Roger (L) and Mabel (R)

Beth is such a wonderful breeder and person. When we started looking for a
puppy, we talked to a few breeders and didn't feel comfortable adopting from
them. Beth was recommended to us and we instantly felt comfortable. She
provided great assistance with getting us ready for the puppy to come home.
Our puppy is now 3 years old and is an absolute joy! Beth keeps in touch and
emails the litter families pictures of each others puppies. My kids especially love
to watch our dog's siblings grow. We trust Beth and her breeding so much that
we are travelling halfway across the country to pick up a second puppy from her
very soon!
Cindy D. Winnipeg MB
March 2018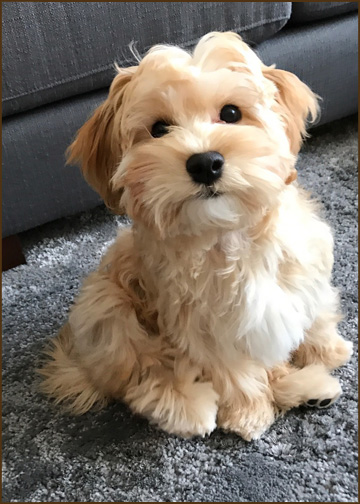 Peanut

Review of Rockhurst Havanese, owned by Beth Obrecht, Master Breeder
Review by Marilyn Brown, October 2018

I recently purchased a puppy from Beth at Rockhurst Havanese. My experience
with the whole process, from initial contact to bringing my puppy home, has been
absolutely tremendous… tons of support from day one of contact.
A nicer lady you will not find!
I'm so glad I found Beth online. She really knows and loves her dogs. She has been
totally compassionate and understanding in her communication with me from the
beginning. It's much more than a business to Beth. She wants her puppies to be
the absolute best. The parents have had all the appropriate health checks. Also,
most of them are champions that have won prizes in dog shows across Canada
and the States.
The pups are cared for in an environment that is clean, comfortable and full of
love. They are raised in a huge bright room and are socialized from very early on.
All the puppies I saw were beautiful, well tempered, smart, cute and above all, the
healthiest, happiest puppies you would want to buy. Beth provided continual
input into my puppy's transition to its new home. She let me know the puppy's
previous schedule, its current level of potty training, food needs, vaccinations and
medical needs.
As soon as the puppies were born I received pictures of them with the mom and
then weekly pictures. This is important information. Some breeders only show you
one puppy and you have no idea of the mother or their environment.
Beth has been helpful in every aspect that I can think of.
If you're looking for a Havanese then Beth is the breeder I would recommend to
you.
Marilyn Brown
Waterdown ON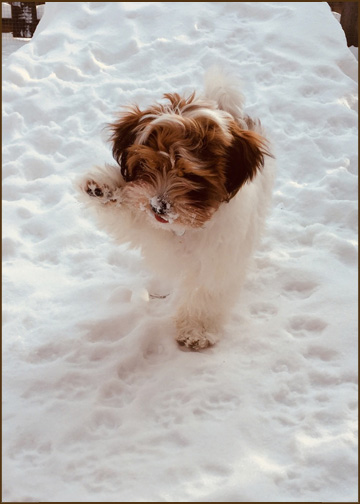 PUCCI
Brrrr...It's cold outside!

Testimonial by Sophie Marcotte Chenard
Our experience with Beth at Rockhurst Havanese was a breeze
from beginning to end. She provided detailed information during
the whole process, sending pictures of our little Puccini several
times a week so that we could see him grow. When we went to
visit our puppy for the first time, we were greeted by her lovely
Havanese, which convinced us that we made the right choice. She
really cares about the wellbeing of her dogs and litters and it
shows. We only heard good things about Rockhurst Havanese and
we could not be happier that we decided to adopt our little puppy
from Beth. Puccini is a healthy, easy, happy, calm and confident
dog, on top of being very good looking. Beth still remains available
for all our questions, which we really appreciate. Thank you for
everything!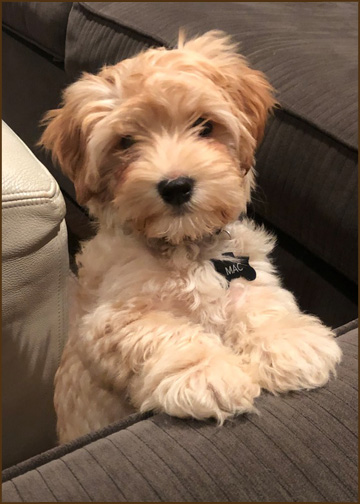 Mac

I was introduced to Rockhurst Havanese and Beth from a friend who had
adopted a puppy from Rockhurst a few years ago, and from the moment I
reached out, Beth became a part of our life. I am pretty sure I drove her nuts for
the entire month we waited for the arrival of Dolly's litter, and then the 9 weeks
after, as we excitedly watched and waited for our sweet Mac to come home to
us!
Beth kept us so involved and so in the loop, we don't feel like we missed even a
moment of Mac's first 9 weeks. We got to watch him grow and develop every
step of the way through e-mail updates, videos and amazing pictures.
Beth is a true lover of animals and helped us prepare for Mac to come home.
She was always ready to answer any and all of the questions we had and she
provided us literature, recommendations and guidance on what to expect. She is
a class act and a total professional.
I have come to learn that a well developed puppy is the perfect combination of
breeder environment, time spent with mom and litter mates and interaction and
handling by humans during the first 8-10 weeks of life. That is absolutely the
focus at Rockhurst Havanese.
Beth makes the puppies her number one priority and she will do whatever it
takes to make sure they are healthy and thriving and then placed in loving
forever homes.
Our decision was further solidified during our puppy visit to Rockhurst. The depth
of love Beth has for her dogs and the puppies, and the lengths she will go to
protect and care for them is very evident and heartwarming.
Our journey to puppy adoption with Beth brought us Mac and he has changed
our lives by bringing so much joy and extra love to our family.
I continue to keep in touch with Beth to this day. We are overjoyed with our
decision to adopt a puppy from Rockhurst Havanese.
Lindsay A
Maple ON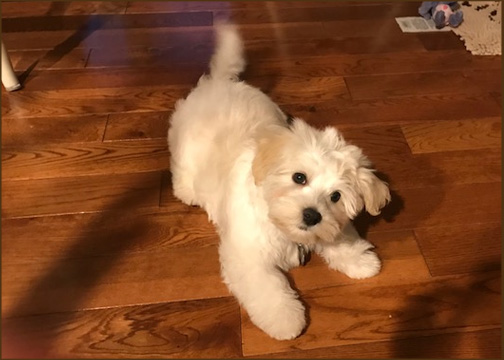 Oliver

I was going to send you (Beth) a note today to let you know that Oliver is growing
so quickly! I am so grateful for your careful selection. I had read lots of
information on puppy health and that was one of the things I considered when
selecting a breeder. I had no idea how common some congenital conditions were
in puppies until talking with my vet this week. She seemed quite taken that Oliver
had none of the more common issues she sees. Thank you again for the effort
you put into making sure Oliver is a healthy puppy!
Kimberly H
Kincardine ON