Testimonials

We purchased "Rocky" from Rockhurst Havanese in 2007 and he was a beloved
member of our family for 15 wonderful years. We had researched the breed and
liked the characteristics of intelligent, friendly, lively, loyal with a silky nonshedding
coat. Rocky was true to form.

In 2023 we were thrilled to learn that Beth was still breeding this delightful pet and
"Coco Havana" joined our family. She was literally already house trained and well
socialized, which we attribute to Beth's hands-on interaction with her litters.
We highly recommend a Rockhurst Havanese puppy to anyone who is searching for
a playful, affectionate companion.
Sheryl and Fred Laverdure
Fort Frances ON
Nov. 2023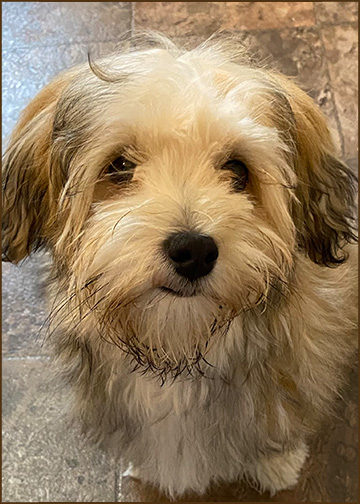 Rocky Coco
Testimonial for Rockhurst Havanese
2 October 2023

We purchased a Havanese puppy from Beth Obrecht in 2023. It was a
positive experience throughout the entire process and Rockhurst is an
enterprise that we strongly endorse.

Our confidence in this kennel was reinforced initially through the
thorough application process; it was clear that Beth was only
supplying pets to capable homes. It was also reassuring to know that
the high quality of the bloodline of the dogs is well known, proven
through numerous competitions and guaranteed by Beth. The dogs
are magnificent.

The process for purchasing was simple, clear and as described; there
were no surprises. The puppy came with full documentation for
registration with the Canadian Kennel Club and all vaccinations. There
was also a very helpful written orientation to the care of the puppy. In
case of any other questions, Beth was always available.
After the purchase and acquisition of the puppy, Beth continues to
engage with her clients. She has formed a network of dog owners that
regularly shares images and videos of their pets and from time-to-time
gather for get-togethers. (e.g. Hava-hikes).
Cooper, our puppy, is smart, happy, and healthy. He is simply "the
best"!

Debra and Mark Graham.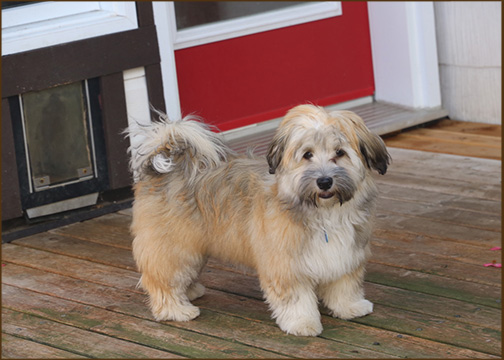 BETH OBRECHT, MASTER BREEDER & FRIEND
As I sit here this morning watching our new arrival Greta settle in, I'm also thinking about Beth at Rockhurst Havanese. What an amazing journey she's shared with us these last 15 (!) years. An enthusiastic referral in 2008 from a Toronto breeder led us to Rockhurst and this quite remarkable lady. Our beloved pup Maxie joined us then, followed by Remy in 2013 and what a healthy and energetic pair they made. We grieved Maxie's passing and whether we were ready for another. Beth's kindness and empathy were a source of comfort then and now, as she offered her thoughts on pups vs a mature dog as companion for our Remy. And so recently we met and fell in love with sweet Greta, a three year old who is now busy giving Remy a run for his money. She's our girl boss☺ and he is besotted.

From our first contact back then to today, Beth has been a constant for us in terms of support and guidance for all things Havanese. Her expertise is prodigious. The adoption process each time has been informative and thorough. Her screening process demonstrates love of her dogs and commitment to the breed itself. And she has been a happy conduit all these years for shared messages and pictures between littermates, something we all treasure. I think of her as the matriarch of the Rockhurst family.


Donna Allen-Drmay
Cambridge ON
June 2023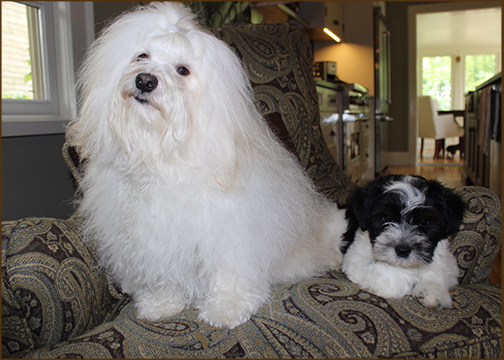 MAXIE & REMY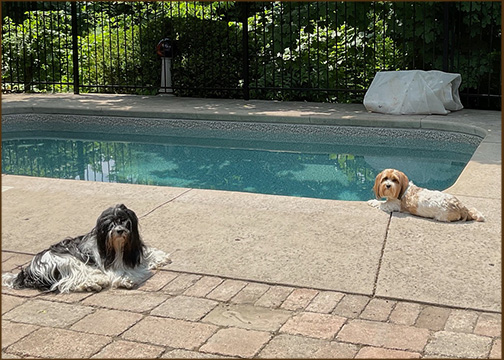 REMY & GRETA
A NOTE OF APPRECIATION
June 2021

by Katrin N. Westmount QC

Our beautiful Jazz turned two on May 31 2021! And what a wonderful two years it has been thanks to this sweet boy. Jazz is loving, friendly and oh so entertaining to watch. He loves to run in circles in our back yard or living room. During quiet times, he lies on his back waiting for his tummy rubs. I cannot imagine how we would have lived through the COVID-19 confinement without our walks and his laugh-inducing antics.

In his mind, Jazz is one of the "big boys" and is just as likely to want to romp with the Leonbergers as the Maltipoos. Everyone who meets him says he carries himself with great confidence.

Which brings us to our deep gratitude to Beth who has bred such incredibly happy and healthy puppies with lovely dispositions. From the moment we were first in touch, Beth has been a priceless source of information and tips. Her many photos from the day of Jazz's birth allowed us to get to know him and fall in love many weeks before even meeting him. We had done a lot of research before choosing Rockhurst, and we are so delighted with our choice. Even after bringing Jazz home, we share photos of Jazz's brother and sisters on a regular basis with the other owners. We would do it over again in a heartbeat. Thank you Beth!

Meet "JAZZ"!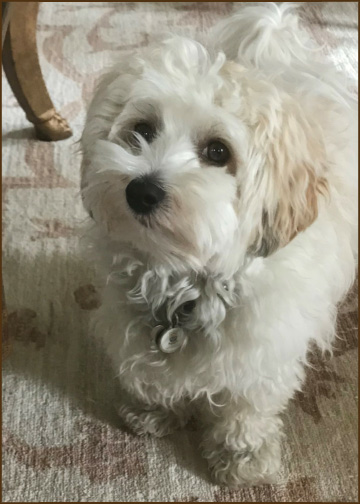 Testimonial of Appreciation by Marc C. of Thornhill ON
April 2021
Beth was an absolute pleasure to work with. After a lot of research online, we
were so happy we went with Beth at Rockhurst. From the initial application to the
moment we picked up our puppy, Beth answered all of our questions, sent emails
with a lot of information and weekly picture updates. Beth is passionate about
her puppies and understands the importance of finding the right match with each
family. I would highly recommend Beth. She is kind, caring and very
professional.

Meet "STANLEY":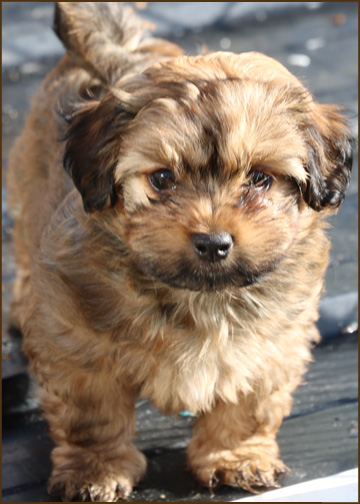 March 2021
Appreciation by B. Chodos, Montreal QC
I have so much respect and gratitude for Beth Obrecht of Rockhurst Havanese.
My family always had large, intelligent dogs whom we loved, but after suffering
losses of both human and canine family members, the time had come for one
small but bright and energetic companion for me who could keep up with my
active lifestyle.
Research led me to the versatile and sturdy Havanese. As soon as I got in touch
with Beth I knew that waiting for one of her dogs was all that I wanted.
While stunning looks and breed standards is part of the genetic "recipe", for me
it is secondary to Rockhurst's best breeding practices that lead as well to sound
health and outstanding character.
I am lucky to have been chosen to adopt Javiar, and to have Beth's confidence
that he would thrive to become the very best and most loved dog he could be!
Javi's veterinarian is wowed by his excellent health saying "He is perfect!!"
Almost fully grown at 8 months old Javi is lean, well muscled and keeps up with
the larger puppies at the dog park. He is gorgeous,friendly, and so well
socialized with dogs, people and kids of all ages. Javi is adored for his luxurious
silky sable coat, expressive face and his tricks and personality! He is so
affectionate and funny and brings endless joy to my life. Javi is a great exercise
partner too! I am very blessed that I chose Rockhurst Havanese and that Beth
chose me to be Javiar's forever Mama!


A Year's Retrospective!
By B. Byberg
Almonte ON
It has almost been a year since my wonderful little Brixen was born. I have
totally fallen in love with my little Havanese boy. He keeps me hopping and
active. As I have mentioned in my previous testimonial I have only had
experience with large breed dogs (specifically over a 22 year stretch with 2
female Bouviers). I still love Bouviers but it was time for something smaller as I
don't have the same strength and endurance as I did in my younger years. Also ,
I have recently downsized so having a smaller dog makes sense for that reason
as well. Definitely size wise the Havanese is much easier to manage ...much
more convenient to take with you to friends and relatives (as they prefer not to be
left alone...after all they are part of your family and should be treated as such).
However, make no mistake this is a very active and some time rambunctious and
defiant little boy I have. He does love his snuggling at different times during the
day and evening but he has more energy at times than both my female Bouviers
had put together. Now that I look back I think my Bouviers were rather lazy and
laid back girls.
Just because my little boy is small doesn't make him shy on energy. I have to
keep him exercised with walks many times in a day. We just recently moved so
I am currently without a fenced area for another 6 months. But, a fenced yard is
an absolute must so they can sniff, explore and be the happy dogs that they are.
In the meantime, while I await grass and fencing at my new home I literally run
Brixen on leash back and forth and around in circles to be sure I am meeting all
his needs (not just the cuddles, good food and love). He is keeping me well
exercised which is a good thing.
I am loving my lively little Brixen. My vet calls him my Bouvier Wannabe. He is
so confident and social in this new neighbourhood. This little boy makes a huge
impression on our many daily walks. Most of his favourite dog friends are very
large breeds. He has a big personality with lots of energy in a small package.
You know what they say "good things come in small packages".
Thank you Beth for raising such beautiful Havanese puppies. Brixen is a
wonderful addition to our family. My grandson is planning a birthday party for
Feb 10th to celebrate his first birthday.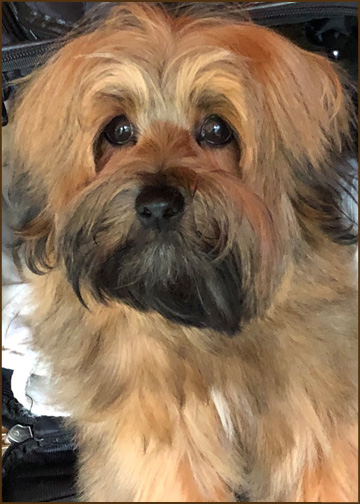 Brixen
Testimonial by Christy Allen:
We have just adopted our second puppy, Coco, from Rockhurst
Havanese and we couldn't feel more fortunate. We recently lost our
first Havanese, after almost 14 wonderful years with her. After
experiencing life with a Havanese from Rockhurst we couldn't imagine
going with a different breed, or a different breeder - there was no
question in our minds that we wanted another Rockhurst Havanese.
The attention, love and expertise that Beth puts into raising her
puppies is evident from the temperament of both dogs that we
adopted from her. Our most recent puppy came to us with a relaxed,
friendly and curious nature, which we know is a product of her
breeding and upbringing. Within days of bringing her home, Coco has
already become a fundamental member of our family and we can't
remember life without her!

The adoption process is itself like no other I've ever heard of. Beth is
in regular contact with the adopting families, and shares pictures and
videos on a regular, almost daily, basis. We felt as though we had a
window into our little girl's daily life, as she grew from a newborn, to
the beautiful puppy we eventually got to take home. She was already
a part of our family, before we took her home. And after bringing
Coco home, Beth has provided us with invaluable support and
guidance along the way – ensuring that we continue with Coco on the
same path that Beth had laid out for us.

It is apparent to us that Beth breeds Havanese puppies for no other
reason than because she loves doing it. Our impression is that Beth,
quite simply, aims to produce the best puppies possible, in all
respects.

Beth, we can't thank you enough for everything that you have done
for Coco and for us. The care and expertise that you put into breeding
your puppies has a long lasting and wonderful impact on families like

ours. You have effectively set us up for success with our new puppy,
and we couldn't be happier.
C. Allen
Ottawa ON
July 2020

ROCKHURST'S COCO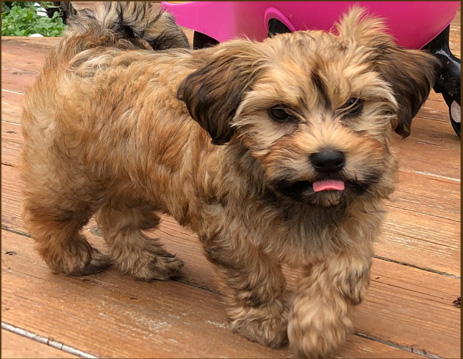 The first time we ever heard about the Havanese breed was in February 2020
while watching The Westminster Dog Show. The Winner of the Toy Group, was
a Havanese, named Bono. After the show we started reading and getting
information on this breed. We agreed that this breed was perfect for us. We
searched and then found Rockhurst Havanese website and felt very confident
that we had found an experienced and caring breeder. We contacted Beth and
we were excited to become part of the Rockhurst Havanese family on day one of
the puppy adoption process. Beth has been nothing but generous in providing us
with pictures of Dolly, the mother, while carrying her litter, then when the puppies
were born, and afterwards all throughout the process. Beth is so loving and
caring of her personal dogs and for the puppies, it is heartwarming. We always
felt very confident we had chosen an excellent breeder. Beth also was very
generous in providing us with her expert advice and information on how to best
care for our puppy. Although we did not meet our little boy KOBI before the day
of pick up because of the COVID-19 situation, we felt like we knew him, and most
importantly, loved him already. The reason why we bonded with him for 9 weeks
while in Beth's care, is credit to her amazing generosity in sending information,
photos and videos almost daily. Beth is a wonderful breeder and a loving
person. We have nothing but the outmost respect and appreciation for her and
are so happy to have our little KOBI with us. He brings us so much joy and
happiness.

Thank you so much Beth for all the care and love you gave him as we are the
beneficiaries of KOBI'S exceptional adjustment to his new life with us.
Without any hesitation, we highly recommend the Rockhurst Havanese.
Essiambre family
Gatineau, QC
July 2020

"Rockhurst's KOBI"
Dolly x Rufus May 5 th 2020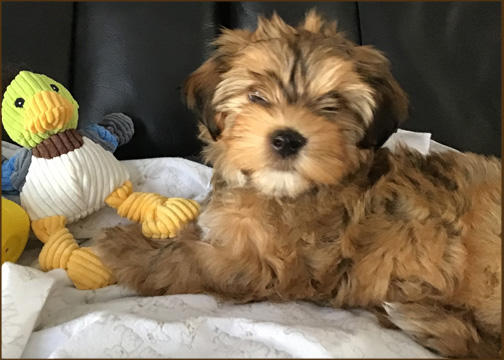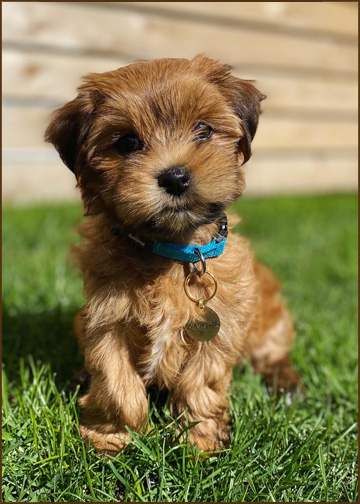 Beth, I wanted to let you know how much I appreciate your dedication, love, hard
work and passion for your dogs and puppies. You've been so wonderful and
have taught me so much along the way. We got to see our puppy, Sophie, while
Ruby, (her mother), was still carrying her and all the updates you sent us really
made us feel a part of the process. Although Sophie is not my first dog, I was not
familiar with all the early stages and the importance of doing certain exercises at
certain stages. We got to see how you care for them every step of the way which
was so amazing!
If you're interested, I'd be happy to write a testimonial for you so I can share my
experience and let others know about what a great Breeder you are. It's been so
refreshing to work with someone with such high standards when it comes to
raising puppies and finding quality forever homes for them. Thank you so much
for doing what you do!
V. Melendez
N. Vancouver BC
April 2020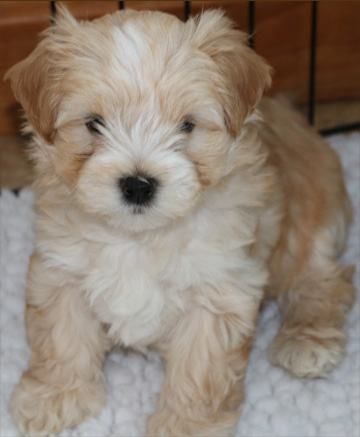 We have always had Lhasa Apsos and we loved them to bits. When we were
thinking of getting a puppy, we discovered that Lhasas were not as readily
available anymore but in our search we discovered the Havanese breed and a
breeder nearby - that was a lucky day for us to say the least. Rockhurst
Havanese looked great to us and after several emails with Beth, we were
approved and we spent several months dreaming about a possible puppy. We
were thrilled to be offered a puppy from Tickles upcoming litter in May 2020.
Unfortunately, our precious Waggs passed away in early February and I emailed
Beth to see if we could be put on a waiting list for an earlier litter. She responded
right away saying that Ruby was having a litter that weekend and they were all
spoken for but if she had more than six puppies, one would be ours. As luck
would have it, Ruby must have been thinking of us because she had eight
puppies - one with our name on it!!! I will never forget waking up on Monday,
February 10th, 2020 and finding an email from Beth with the title Seven! - we
were #7 on the list! How exciting was that! Teddy is our seventh dog and Ruby
and Beth delivered him especially for us - did I happen to mention that Ruby is
my birthstone? From that day forward, we have had lots of fun with Beth - by the
end of that week, we knew that we would be bringing Teddy home with us and
we also knew we would be able to visit him on March 22nd with hopes of bringing
him home on Easter weekend. We received daily updates from Beth and by the
time we actually went to visit Teddy, we felt we already knew him. We have not
had a puppy in quite a long time and were a little rusty on potty training
procedures and the like - Beth couldn't have been more helpful - we knew exactly
what to buy and what to do with our little bundle. Beth's attention to detail and
caring ways are beyond compare. We could not have felt more comfortable with
her and with Teddy - the minute he arrived in our home, he captured our hearts.
He is a bundle of joy and a busy little fellow at that. Because of the Covid19
situation, Beth made arrangements for us to bring him home a little earlier than
expected and it worked out beautifully. He has been with us less than a week
and he is running the place. He has lots of toys and has made friends with his
new buddies - our Ragdoll kitties - and he has had fun exploring his new
backyard. Very special thanks to Beth for encouraging his training - he sure
knows what to do when he goes outside! We can't thank Beth enough for her
dedication to her dogs and her puppies - she has gone above and beyond for us
and for Teddy. We are so glad we discovered Rockhurst Havanese and Beth
Obrecht - one first-class lady!
N. Wright
Ottawa ON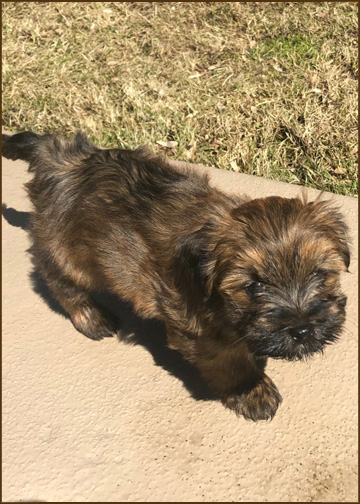 April 2020
Testimonial by B. Byberg
I had the extreme pleasure of finding the Rockhurst website and first contacting
Beth with inquiries about a year and a half ago. This was immediately following
the loss of my beloved bouvier in October of 2018.
I certainly knew I needed time but asked many questions and Beth spent a great
deal of time responding to my many queries. I was especially intrigued by her
own story of having always had a larger breed of dog until she found the
Havanese. In my grief I continued to research despite the fact that I knew it
would be at least a year before I would be ready. Throughout that time, I kept
close tabs on the beautiful Havanese puppies that were born at Rockhurst ... I
was hooked just not ready.
I knew that this spring 2020 was my time (1&1/2 years later)....I got a call from
Beth early January just before leaving for a trip. She told me there was a litter
coming in February and that a spot had opened up that could be back filled as
another family had a change in timing. This was my sign. I was so excited and I
was in touch with Beth on a regular basis from that point on. You are so
involved throughout the whole process that you feel like you are right there with
her. She loves what she does and it shows in the quality of her dogs. I acquired
my beautiful male (Brixen) from Rockhurst just a few short days ago. He is so
well adjusted, extremely well behaved and used to a routine already. I feel like
he is already house trained and he sleeps right through the night in his crate
which is dry every morning. He is such a happy & healthy boy. I could not be
happier with my decision to deal with Beth at Rockhurst.
I have dealt with other breeders but never anyone this efficient, professional,
caring and knowledgeable. She could honestly be training other breeders how to
do this not just properly but exceptionally well. She is a perfectionist and sets a
very high standard....you would be hard pressed to find a breeder anything close
to the quality you get dealing with Beth at Rockhurst Havanese.
Thank you Beth for such a wonderful, memorable experience. I will cherish and
care for this little puppy with everything I have in me....I am so in love with him
already.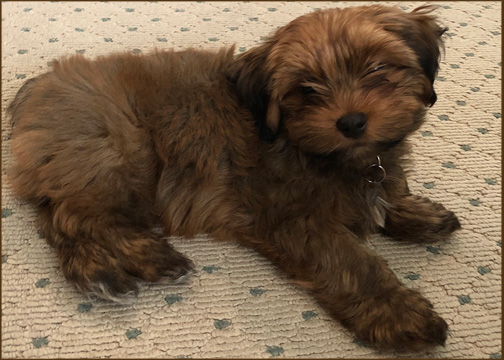 Beth and Rockhurst Havanese are in the happiness business! From my initial
searching and research on breeds and breeders, I was drawn to Beth and her
puppies. I could not be happier with my decision. Beth's level of involvement and support throughout the process, as well as her innate and extraordinary ability to
incorporate the new family into the life of their new puppy even before birth
makes for a truly remarkable experience. Bailey is my 8th dog, yet until now, I
have never had the pleasure and privilege of knowing my puppy from the day of
his birth. Beth truly made this possible through her regular updates and photos.
From the first day (and even earlier) Beth included me in his development. I fell in
love with him before I met him. It is abundantly clear that breeding beautiful and
intelligent puppies is a labour love for Beth not just labour.
A. Levy
Dollard Des Ormeaux QC
02/20


Après avoir pris connaissance des caractéristiques du bichon havanais, j'étais
convaincue que c'était la race de chien que je recherchais et qui convenait bien à
notre style de vie. Il me restait donc à trouver un bon éleveur. Dès mes
premières communications avec Beth, j'ai senti que j'avais trouvé une éleveuse
sérieuse et professionnelle. Suite à la naissance des petits chiots, Beth
communiquait avec nous régulièrement pour nous tenir au courant de leur
progression, en plus de nous envoyer des photos et vidéos presque
quotidiennement. Elle est très généreuse de ses conseils et est toujours
disponible à répondre rapidement à mes questions. Lorsque nous avons eu la
chance de visiter notre petite Billie, nous avons été accueillis par une charmante
dame, dans une vaste pièce très propre et éclairée où vivaient deux mamans et
leur petits chiots. Lorsqu'on me demande d'où vient Billie, je suis très fière de
dire qu'elle vient d'une éleveuse de ma région et je la recommande fortement.
Merci Beth!
D. Gagnon, Gatineau QC
02/2020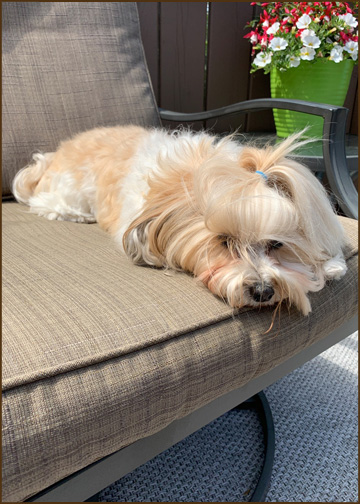 "I'm reminded every day what a fantastic breeder you are, Beth. Coco stands out in our NL Havanese group. Everyone keeps asking how did I train her. I keep telling them that it's all in the breeding."
Norine B and her fur friend Coco
St. John's NL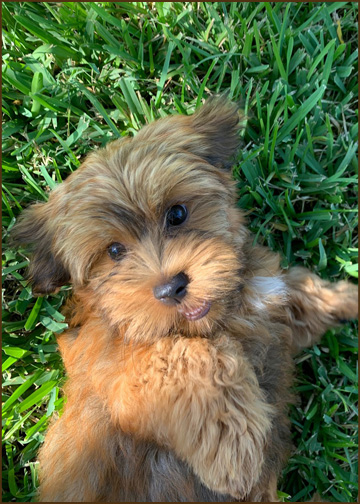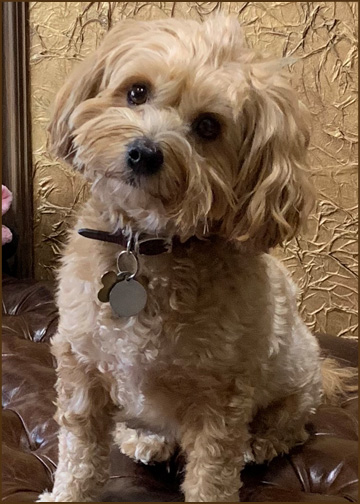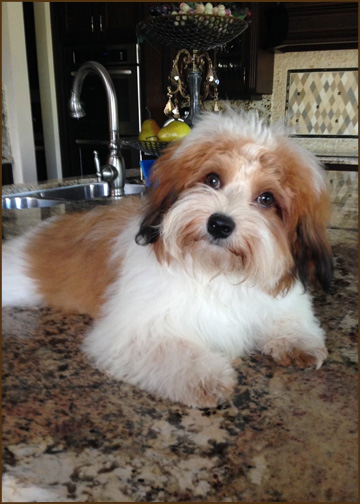 With months of research I came across Rockhurst Havanese. I loved what I saw and read online and had to find out more.
After speaking with Beth, My husband and I knew we made one of the best decisions of our lives. Fast forward 5 years, 3 dogs later from Rockhurst,
Beth is not only my breeder, she is my friend and a big part of my life.
Our newest little girl, Sadie is absolutely perfect! Each time I bring my little Canadian fur babies home,
my vet cannot believe how amazing these dogs are. From our first little guy to our little girl,
the quality of Beth's puppies compare to none. (I previously owned 3 Havanese from another breeder).
Beth is so conscientious about the quality of puppies she breeds. In each of the pups you can see she breeds for health,
personality and overall quality. She loves her dogs/puppies and it shows in all she does. From that first call to pick up day, she keeps you informed,
and if need be, holds your hand throughout the whole process. You watch your puppies grow, and interact with their mom and other litter mates.
You can feel the love Beth gives to each and everyone of her puppies. When your puppy is ready to go to their forever home, they are socially well developed and nearly potty trained, which is definitely a plus.
Beth is a wonderful person, and a superior breeder. I cannot say enough about her or her breeding program. Getting another dog from anyone else but Rockhurst Havanese would never be an option!
Beth, "thank you" is not enough for what you gave us. Remi, Yogi and Sadie have been such incredible additions to our family.

Joanie and Gary M.
Parkland, FloridaU.S.A.

Yogi Sadie Remy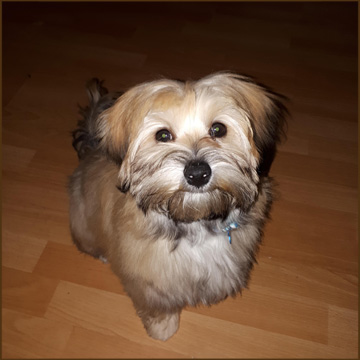 The Benefits of Puppy Classes for Dog and Master Alike!

Molly graduated puppy school and here she is looking pretty!
The first day I brought her to puppy school she was shaking with fear and she looked at me with big sad eyes that said "please take me home".
I almost did, almost…but...
Instead I worked with her and we learned commands and she gained confidence.
She's a happy and so am !!

William
Beaconsfield QC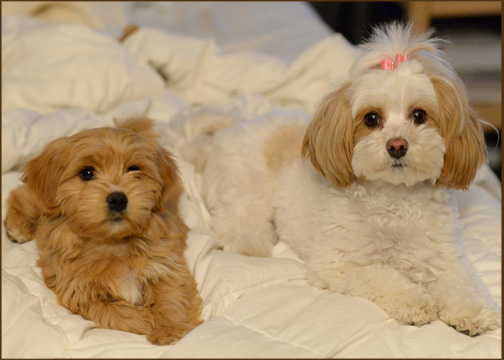 Roger (L) and Mabel (R)

Beth is such a wonderful breeder and person. When we started looking for a
puppy, we talked to a few breeders and didn't feel comfortable adopting from
them. Beth was recommended to us and we instantly felt comfortable. She
provided great assistance with getting us ready for the puppy to come home.
Our puppy is now 3 years old and is an absolute joy! Beth keeps in touch and
emails the litter families pictures of each others puppies. My kids especially love
to watch our dog's siblings grow. We trust Beth and her breeding so much that
we are travelling halfway across the country to pick up a second puppy from her
very soon!
Cindy D. Winnipeg MB
March 2018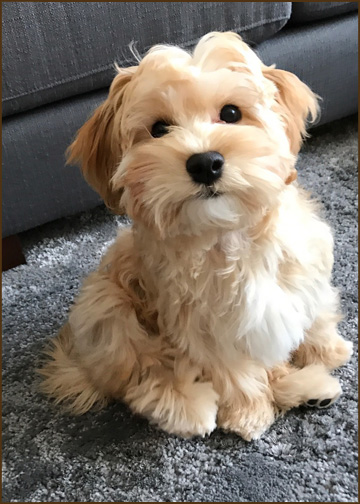 Peanut

Review of Rockhurst Havanese, owned by Beth Obrecht, Master Breeder
Review by Marilyn Brown, October 2018

I recently purchased a puppy from Beth at Rockhurst Havanese. My experience
with the whole process, from initial contact to bringing my puppy home, has been
absolutely tremendous… tons of support from day one of contact.
A nicer lady you will not find!
I'm so glad I found Beth online. She really knows and loves her dogs. She has been
totally compassionate and understanding in her communication with me from the
beginning. It's much more than a business to Beth. She wants her puppies to be
the absolute best. The parents have had all the appropriate health checks. Also,
most of them are champions that have won prizes in dog shows across Canada
and the States.
The pups are cared for in an environment that is clean, comfortable and full of
love. They are raised in a huge bright room and are socialized from very early on.
All the puppies I saw were beautiful, well tempered, smart, cute and above all, the
healthiest, happiest puppies you would want to buy. Beth provided continual
input into my puppy's transition to its new home. She let me know the puppy's
previous schedule, its current level of potty training, food needs, vaccinations and
medical needs.
As soon as the puppies were born I received pictures of them with the mom and
then weekly pictures. This is important information. Some breeders only show you
one puppy and you have no idea of the mother or their environment.
Beth has been helpful in every aspect that I can think of.
If you're looking for a Havanese then Beth is the breeder I would recommend to
you.
Marilyn Brown
Waterdown ON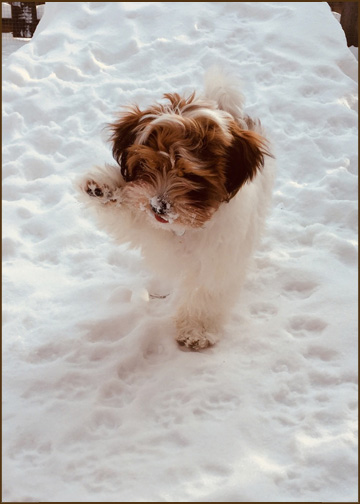 PUCCI
Brrrr...It's cold outside!

Testimonial by Sophie Marcotte Chenard
Our experience with Beth at Rockhurst Havanese was a breeze
from beginning to end. She provided detailed information during
the whole process, sending pictures of our little Puccini several
times a week so that we could see him grow. When we went to
visit our puppy for the first time, we were greeted by her lovely
Havanese, which convinced us that we made the right choice. She
really cares about the wellbeing of her dogs and litters and it
shows. We only heard good things about Rockhurst Havanese and
we could not be happier that we decided to adopt our little puppy
from Beth. Puccini is a healthy, easy, happy, calm and confident
dog, on top of being very good looking. Beth still remains available
for all our questions, which we really appreciate. Thank you for
everything!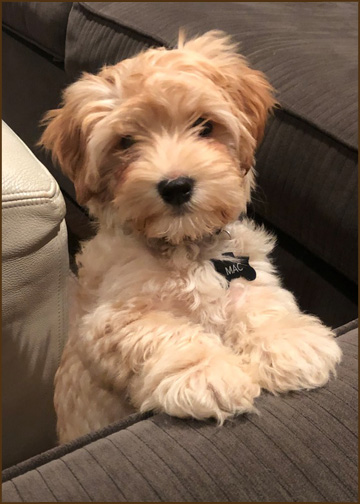 Mac

I was introduced to Rockhurst Havanese and Beth from a friend who had
adopted a puppy from Rockhurst a few years ago, and from the moment I
reached out, Beth became a part of our life. I am pretty sure I drove her nuts for
the entire month we waited for the arrival of Dolly's litter, and then the 9 weeks
after, as we excitedly watched and waited for our sweet Mac to come home to
us!
Beth kept us so involved and so in the loop, we don't feel like we missed even a
moment of Mac's first 9 weeks. We got to watch him grow and develop every
step of the way through e-mail updates, videos and amazing pictures.
Beth is a true lover of animals and helped us prepare for Mac to come home.
She was always ready to answer any and all of the questions we had and she
provided us literature, recommendations and guidance on what to expect. She is
a class act and a total professional.
I have come to learn that a well developed puppy is the perfect combination of
breeder environment, time spent with mom and litter mates and interaction and
handling by humans during the first 8-10 weeks of life. That is absolutely the
focus at Rockhurst Havanese.
Beth makes the puppies her number one priority and she will do whatever it
takes to make sure they are healthy and thriving and then placed in loving
forever homes.
Our decision was further solidified during our puppy visit to Rockhurst. The depth
of love Beth has for her dogs and the puppies, and the lengths she will go to
protect and care for them is very evident and heartwarming.
Our journey to puppy adoption with Beth brought us Mac and he has changed
our lives by bringing so much joy and extra love to our family.
I continue to keep in touch with Beth to this day. We are overjoyed with our
decision to adopt a puppy from Rockhurst Havanese.
Lindsay A
Maple ON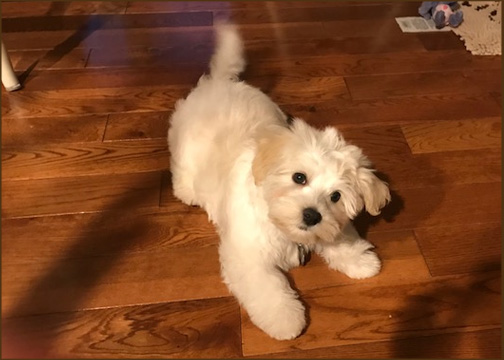 Oliver

I was going to send you (Beth) a note today to let you know that Oliver is growing
so quickly! I am so grateful for your careful selection. I had read lots of
information on puppy health and that was one of the things I considered when
selecting a breeder. I had no idea how common some congenital conditions were
in puppies until talking with my vet this week. She seemed quite taken that Oliver
had none of the more common issues she sees. Thank you again for the effort
you put into making sure Oliver is a healthy puppy!
Kimberly H
Kincardine ON